The error message, "Web services authorization is not valid. The sender ID 'CData' is not authorized to make Web Services requests to company ID 'CompanyID.' Contact the company administrator to grant Web Services authorization to this sender ID," is quite clear in its explanation. This issue is likely occurring because the Sender ID 'CData' is not included in your list of authorized Sender IDs for Web Services authorizations. 
To add the Sender ID, please follow these steps: 
Log in to Sage Intacct as an administrator 

Navigate to Company 

Under Setup select Company 
Go to the Security section and make sure to add the CData Sender ID. 

One other thing that you can try is to utilize our Sender ID and Sender Password to select another user with the right permissions from your Web Services authorizations list.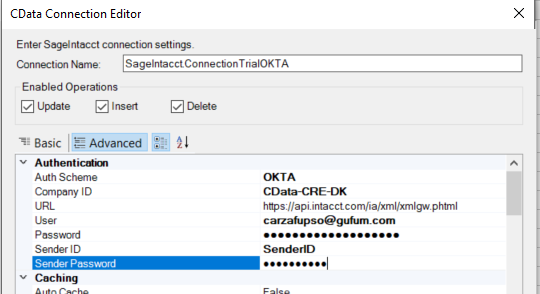 Please reach out to support@cdata.com if this does not resolve the problem for you.