The QuickBooks Gateway (formerly Remote Connector) is useful if you want to access QuickBooks in a situation where direct COM access to QuickBooks is not available, such as in ASP.NET, Java, or QuickBooks on a remote machine.
To authenticate to the QuickBooks company file, you will first need to create a user in the QuickBooks Gateway. Upon pressing Test Connection on that user, a prompt will open and ask you to authenticate it to QuickBooks. Note that QuickBooks must be open as an administrator in single-user mode for this to succeed.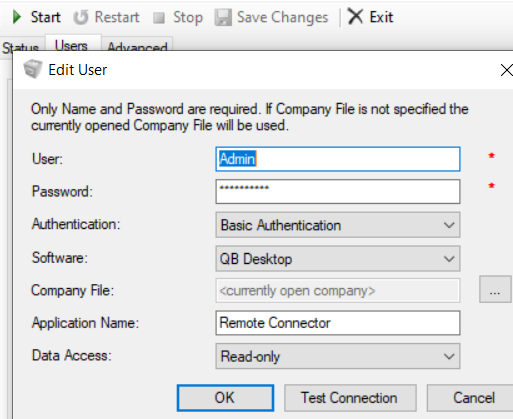 Then, you will need to open the QuickBooks DSN/Connection Manager/Connection String Builder and, in the Remote section, enter the information on the QuickBooks Gateway user you just created. The User and Password will be the username and password of your QuickBooks Gateway user, and the URL will be the URL of the QuickBooks Gateway. Note that the Company File property can be left blank, as the QuickBooks Gateway has already specified which company file to use.