Welcome, we're glad you're here! CData's mission is to make it easier for everyone across your organization to access, work with, and get value from their data. Read more about our company here.
The CData Community is a place to share your knowledge and ideas, ask questions and connect with other CData users and customers. We're here to help, so here's some information to get you started.
You'll first need to create an account. Click the Login button to get started.

Set up your profile and upload your photo!

Make sure to introduce yourself to our community.
Don't forget to read our community guidelines.
CData Community Home
Once you've signed up and logged in, this is the place you want to be. You can access all areas of the community from this page.
When you're ready to create your first post, go here.  You can select:
Question

– you're looking for a solution to a problem.

Conversation

– you want to share something with the community and start a discussion,

Idea

– you have a suggestion for a product enhancement or improvement.
Add a Title and Description, select the Category your post pertains to and click "Create".
Knowledge Base
This is where you'll search for answers to your questions and solutions to your problems.
Updates
Want to know what's new with our CData products? Check our Updates page to learn about new and upcoming releases, or read about past product updates. You can also Subscribe to receive email notifications when an update has been posted.
Events
We always have something going on, so visit our Events page frequently to find out when, where, and how you can connect with us – whether in-person at a trade show, or in one of our many free webinars.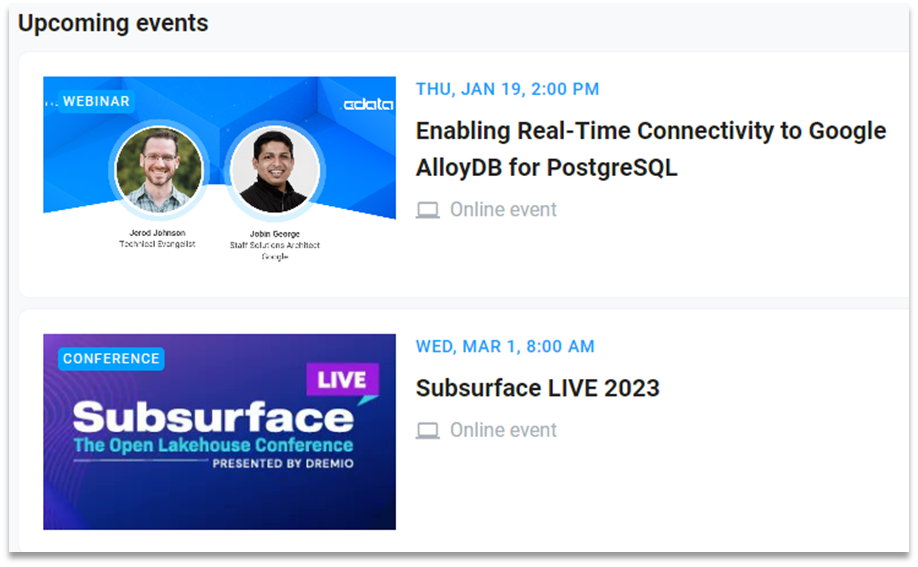 Groups
We have a wide of variety of groups to join where you can interact with members who share your interests, industry, or role. Or maybe you'd like to join a group to learn more about a particular topic.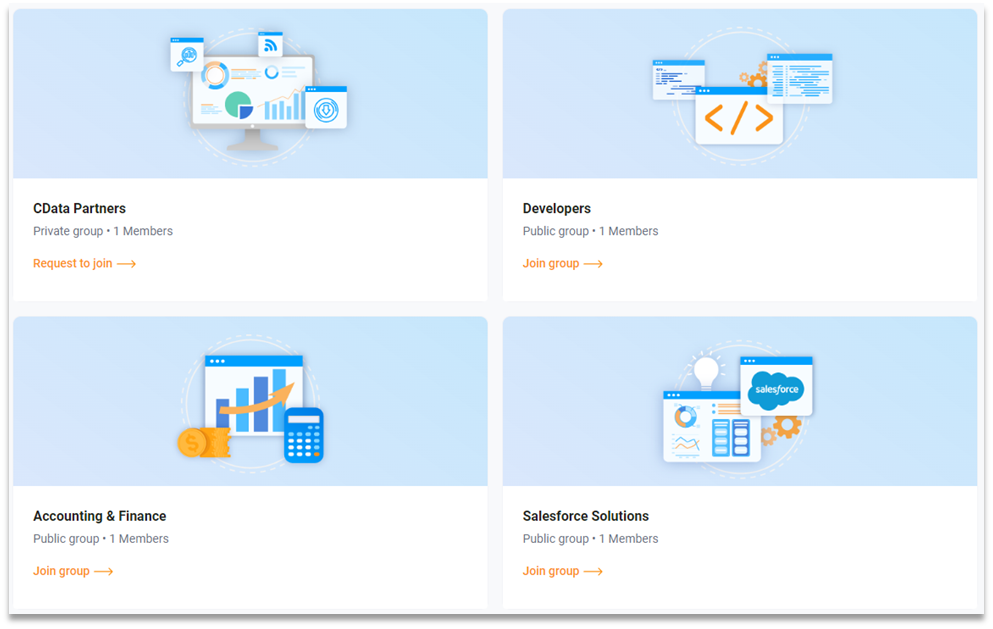 Questions about the CData Community? email us at: community@cdata.com.
Thanks for joining!