When trying to connect to Tally, the following error is displayed instead.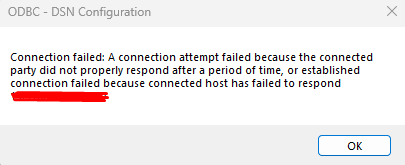 This error usually means one of two things; 
 
One probable cause for this error is the configuration of the server hosting Tally. For security reasons, it may be configured to only allow inbound traffic from a specific IP range or network, and since the connection is being attempted from an outside machine (your PC) connection is not successfully established. 
​ 
Another reason this error shows up is the Tally software being closed. Tally needs to be open and running on the server at the time you are using our Tally Driver to establish a connection. 
If this does not resolve the error then please reach out to support@cdata.com for further assistance.