CData Connect Cloud Newsletter
We're happy that you've chosen CData Connect Cloud for your real-time cloud data connectivity needs. In this inaugural issue of the CData Connect Cloud newsletter, we'd like to share some new and notable features in the product, tips to help you get the most out of your investment, and see what other Connect Cloud customers are saying!
If you have any feedback regarding how we can make your Connect Cloud experience the best that it can be, please don't hesitate to use the link below to provide any questions, suggestions, or concerns.
Provide Feedback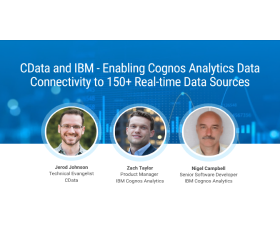 CData and IBM Cognos Analytics are teaming up! 
CData has partnered with IBM
Cognos
Analytics to bring Data Connectivity-as-a-Service to Cognos users with CData Connect Cloud. Learn how to supercharge your analytics with CData and IBM Cognos Analytics in our latest webinar.
Watch On-Demand 
Latest driver updates
New data sources:
•    Azure Data Lake Storage
•    SQL Server Analysis Services (SSAS)
•    eBay
•    Epicor ERP
•    GitHub
•    Google Spanner
•    Google Ad Manager
•    MariaDB
•    Microsoft Planner
New client tools supported:
•    IBM Cognos Analytics
•    Microsoft SQL Server PolyBase
•    SQL Server (Linked Server)

Stay in-the-know with recent CData resources
| Query MongoDB Atlas from Power BI Service | CData Leverages CData Connect Cloud to Improve Our Product | Gartner Peer Insights Customers' Choice |
| --- | --- | --- |
| | | |
Quick tip of the quarter
Saving a Query
Data Explorer provides the ability to save queries and return to them later without the need to re-enter the query parameters each time.
After you create and execute a query, follow these steps to save a query and access it later:
1. Click Save to open the Save Query modal.
2. Enter a name for the query and click Confirm.
3. The Data Explorer Saved Queries menu opens, and your newly saved query appears in the list.
Using Saved Queries
Saved queries are available in the Saved Queries folder in the Data Explorer pane. To execute a saved query, click the three dots next to the saved query name and select Query. The contents query populate in the Query Editor, and you can click Execute to retrieve the results.
Some feedback we've gotten from you:
"Data integration is hard…it requires a lot of experience to make a solution work…CData is doing just that with Connect Cloud."
– Bill Quinn, Markival CEO

"CData Connect Cloud gave us an affordable connector tool with great support."
– Karan Choudhary, Sesa Care E-Commerce & Digital Marketing Manager

"Before Connect Cloud, it took multiple people a full day to manually collect the data. Now it's just a click of a button."
– Ali Moran, MyCoach Sport Data Analyst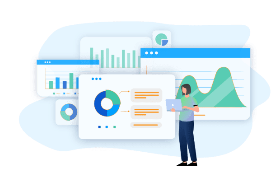 Want to learn more about our other connectivity solutions? 
Let's connect! Our data experts are happy to discuss your unique data connectivity needs and give you a look into our suite of offerings to help you find the right fit.
Book a Call